Check it out! Here's what you can expect to see this weekend from each of our amazing artists, in alphabetical order.
ASVP
ASVP has stocked the pop-up store with an exquisite print of "Yours Truly," a signed and numbered 7-color screen print. Number 5 of an edition of only five. Rumor has it they're bringing other images, too.
Info: www.asvpart.com.
Bethany Allard
Bethany Allard has been part of Bushwick's arts culture ever since she joined one of Bogart Street's earliest galleries, the now-traveling Ad Hoc art gallery. Now a teaching artist in NYC schools, Bethany has been working recently with collage and screenprinting. For the pop-up store Bethany headed to Bushwick Print Lab to create two signed black-and-white prints of "Bee Clean."
Info: www.bethanyallard.com.
Bishop203
This summer, Bishop203 will be opening the Low Brow Artique, an art supply store at 66 Knickerbocker that Bushwick artists will want to check out. This weekend's pop-up store features Bishop203 sticker packs as well as a signed, one-of-a-kind skateboard deck by Good Wood featuring his characters laser-cut into the underside.
Info: www.bishop203.com.
Chris Stain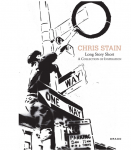 Chris Stain's works evoke urban America exquisitely and illustrate the struggles of society's unrecognized and underrepresented individuals.  Recently Chris has been prepping for a summer show at Dumbo's Mighty Tanaka gallery with Joe Iurato, planning a Transportation Alternatives mural, and finishing up classes—as a teacher and a student. Somehow he managed to take a few minutes out of his schedule to drop off a few copies of his recently released book, Long Story Short, as well as a few hand-colored signed screenprints on wood panel.
Info: www.chrisstain.com.
Criminy Johnson | QRST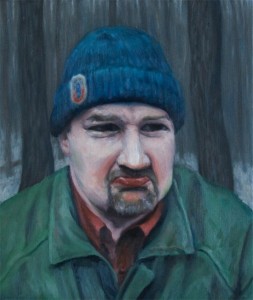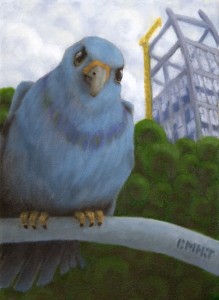 Criminy Johnson | QRST's paintings depict the world as a bent, slightly pessimistic and occasionally hostile place populated by animals and people who are often reluctant to be interrupted, even by a viewer.  His oil paintings have been shown in New York, Los Angeles, San Francisco and Atlanta. Street art by QRST is becoming familiar to New Yorkers but has also appeared in New Orleans and San Francisco. Criminy Johnson's solo exhibition in Bushwick earlier this year featured a large QRST mural, which the artist hacked to bits at the closing party. The pop-up store has oil paintings, artist books, and a few remaining pieces of his "Eidola" mural.
Info: www.nervousfingers.com
(Keep reading…)
Comments closed