ND'A
Artist ND'A often paints using housepaint, a choice that sets him apart from many street artists working on murals today. He's got a couple of new pieces up around Bushwick, on Knickerbocker and at the BOS opening party. Here, we have a couple of his originals on panel and wood.
Info: http://www.flickr.com/photos/52714236@N02/
Never
Street artist Never, who's been painting a lot of sad owls lately, gave us two heavy-ass panels, one features a graffiti N., the other with the letter E., so we're pretty sure this used to be a set. But split into individual pieces, they're more abstract, and they're cool: spray paint on rusted, fired metal. We also have nine prints of his latest owl image, "Bad Things Happen to Good People."
Info: www.flickr.com/never3.
Quel Beast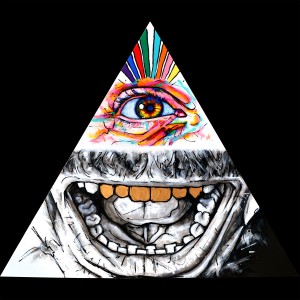 Quel Beast taught himself to paint by pasting his successes and failures in the streets of lower Manhattan and North Brooklyn.  Years passed, and when his first foray into the gallery world was sabotaged by some shady insiders, Quel Beast became depressed, indignant and self-destructive.  He would occasionally emerge with a new paste-up or canvas, each more technically impressive than the last, vying for favor and redemption from the god of self-will.  After his latest disappearance, he seems to have an entirely new outlook on life, as well as a bizarre series of self portraits, that look to have expelled his demons. The pop-up store has original paintings, signed & numbered 'zines, free stickers and mini-prints.
Info: www.quelbeast.com.
Royce B.
Royce Bannon is a born and bred Harlem artist whose infamous monsters can be seen pasted on doors and walls throughout the five boroughs. His iconic monsters are recognizable with their emotive eyes and, often, razor-sharp teeth. As a member of street art collective Endless Love Crew, Royce has participated in various collaborative live paintings, group art shows, and solo art shows throughout New York and the world. On any given day you can find Royce painting monsters, silk-screening T-shirts, spraying stencils or slapping stickers up on various spots in New York. Royce also curates shows that feature a variety of artists including fine, graffiti and street. Royce gave us a painting, and flasks in various colors. You know you want one.
Info: choiceroyce.tumblr.com.
###END###