Daniel Feral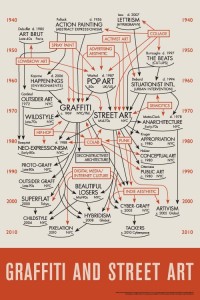 Daniel Feral is a writer, designer, historian and theoretician who studied literature and writing in college. Afterwards, working as a designer by day, he continued his studies in the library and on the streets at night. The store carries his Pantheon Projects "Signal!," a mix of theoretical journal, magazine and graff zine, as well as posters of "The Feral Diagram: Graffiti And Street Art."
Info: http://on.fb.me/vxCxjR
Elle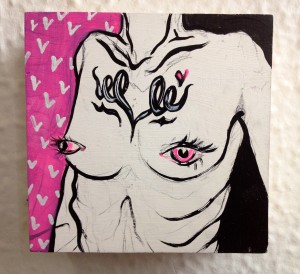 About Elle: "My inspiration for creating street art lies in the search for the perfect human skin; both figuratively and literally. I am working to understand how, why and with what we, as humans, choose to adorn our bodies and what those things represent. I like to consider reincarnation, regeneration, and the ability we have to brand and rebrand ourselves to fit into these ever-fluxing ideas of who we are, who we want to be, and what brings us to a place of peace." The pop-up store carries signed sticker packs and small paintings from Elle.
Info: http://cargocollective.com/elleelle
Enzo & Nio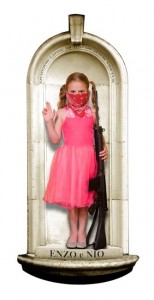 Brooklyn-based Enzo & Nio work with photography, graphic design, block printing, stenciling, spray and brush painting. They present work in public places via wheatpastes, stickers, painted pieces and conceptual installations. They use humor, philosophy, religion and politics to reach their audience. The pop-up store is carrying Enzo & Nio's first-ever print release of "Idol No. 1," both a signed and numbered limited-edition of 14, and unsigned giclee prints on double-weight white stock.
Info: www.facebook.com/EnzoandNio
General Howe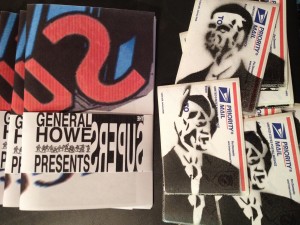 General Howe showed up in Brooklyn playing with his army men–to recreate battle scenes with miniature installations–as part of his personal reflection on the tragedies of war in our current society. The pop-up store has an exclusive on General Howe's brand-new zine, The Supers, an edition of only 30 that comprises three books–Super Elect, Super Committee and Super Pac. The collection portrays 26 current political figures as superheros, including current presidential hopefuls from the past year. Also look for some stenciled stickers.
Info: www.flickr.com/photos/generalhowe.
Gilf!
On a fast moving train to a neon-streaked unknown, the global community hangs on to the teetering semblance and imprint of a world that is crumbling. The facade that shields our awareness is something worth illuminating and discussing. At once powerful and playful, street artist Gilf! is focused on creating positive change through her work. Motivated by the idea of inspiring people who she will never meet, and breathing hope into many of these issues, her goal is to create art that provokes thoughtfulness and motivates a change of the zeitgeist. The pop-up store carries one framed Gilf! five-color screen print on archival paper from an edition of 200, and 4 unframed prints from the same edition, of "Empower Equality."
Info: www.gilfnyc.com.
Hellbent
Hellbent is a Brooklyn based artist whose work has appeared on our city streets for more than five years and in major cities across US and Europe. Hellbent works in various media (wheat paste, straight spray paint, rollers and stencils) but is known for his handcarved drawings on panels—of jawbones, skulls and animals ranging from attacking snakes and dogs to serene hummingbirds, always with his signature stenciled floral backgrounds.  His most recent work has been concentrating on these backgrounds and the manipulation of them from abstract arrangements to more structured 'quilt' like compositions. Look for selections of original work from both in the store, as well as a killer T-shirt collab with Salome Oggenfuss: Bushwick, Brooklyn T-shirts featuring a garland of roses and–what else?–PBR, for 20 bucks.
Info: www.hellbentart.com.
Jon Burgerman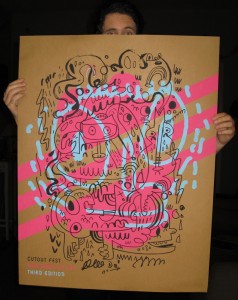 "Jon Burgerman makes vibrant, neo-primitive scrawls of shapes and color. He's pushed his monster-like characters into compositions where cartoon-like forms are crammed on top of each until they create a screaming mass of energy.  Intensely prolific, he has pushed the character obsession of the late '90s into a far more interesting and strong direction. Think Walt Disney at an Incan monument on mescaline."—Francesca Gavin, author of Street Renegades (published by Laurence King) and Visual Arts Editor, Dazed & Confused. Jon's offering signed copies of a print from the Cutout Festival, on kraft paper, as well as sticker packs, socks and his recently released book, My American Summer.
Info: www.jonburgerman.com.
LNY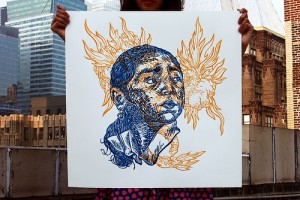 In the past year, LNY has been hitting big walls from Atlanta to Baltimore to Albany with his symbol-laced portraits. This week Jersey City gets his attention, and here in Bushwick, we are stocking a few of his signed prints at various prices. LNY dropped the price on one of his prints from an edition of 10 by 50 bucks to fit our store's price cap.
Info: lnylnylny.com.
Moustache Man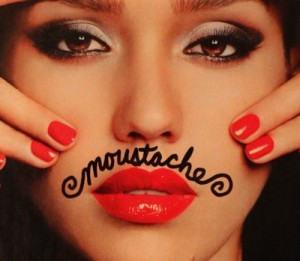 Patrick Waldo, aka Moustache Man, gained notoriety in 2010 into '11 for his anti-advertising campaign: he blanketed New York City subway posters with his signature "moustache" tag, and then got busted. Get your own moustache, help his legal-defense fund, everybody wins. Choose from three different moustache sizes.
Info: twitter.com/MoustacheManNYC
Nathan Pickett
Earlier this year, Nathan Pickett ditched Bushwick to hit walls all over Europe, but after a research trip/vacation to study his heritage in the Philippines this summer, he'll be back in his studio working on paintings and drawings and a few other ideas to show in Zurich later this year. The pop-up store will feature one of his stencil and cut-paper pieces as well as stickers and a print or two.
Info: nathanpickett.com
(Keep reading…)