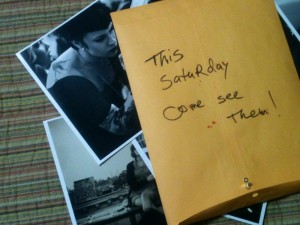 (A sneak-preview of Daria Ska's prints, from her Facebook page.)
Saturday, March 30, I am hosting a reading + curated photography exhibition. You Are Now Here, at The Imaginary Space, features photographers Rebecca Fuller, Erika (Saki) Sequeira and Daria Ska and readers Lauren Belski, Karina Briski, Chiwan Choi and Eric Nelson.
It is an honor to host and present the work of these talented artists.
Join us for:
You Are Now Here
photography exhibition + reading
hosted by Robin Grearson at:
The Imaginary Space
174 Bogart Street, #210
Brooklyn, NY 11206
March 30, 2013, 6-10:30 PM
Artist reception: 6-8 PM
Readings begin: 8:30 PM
About You Are Now Here:
The world just moves faster in New York. The expression "wherever you go, there you are" urges us to take time to ground ourselves, to slow down and pay attention to our environment.
You Are Now Here brings writers and photographers together to showcase words and images that evoke a strong sense of place.
Free admission, prints and books will be offered for sale. Please support our artists!
Featured photographers:
Rebecca Fuller
Erika (Saki) Sequeira
Daria Ska
Readings by:
Lauren Belski
Karina Briski
Chiwan Choi
Eric Nelson
About our artists:
Lauren Belski is the author of the short story collection Whatever Used to Grow Around Here (Crumpled Press) and the forthcoming collective collection The Trout Family Almanac (Papercut Press). laurenbelski.com.
Karina Briski is a writer raised in Northern Minnesota and currently living in Brooklyn. She is the host of Words with Beers, a monthly reading series in Bed-Stuy too cheap for a microphone and too rich to care. She is currently working on a collection of stories about rust belt creeps. Her work can be found online and in print.
Chiwan Choi is the author of two poetry collections, The Flood and Abductions. He is also a founding editor of Writ Large Press, a downtown LA-based small press. He is currently involved in creating LA Writ Large, a non-profit literary think tank focused on changing the economic landscape for writers and publishers. chiwanchoi.com, writlargepress.com.
Eric Nelson is the author of The Walt Whitman House and The Silk City Series and is originally from New Jersey. His essays, criticism and fiction have appeared or are forthcoming in HTMLGIANT, The Billfold, Chimes & Sirens and Volume 1 Brooklyn, among others. His E.P. of recorded stories "They Make a Wasteland, They Call it Pastiche" is being released by Diabetic Koala in spring of 2013. He lives in Ridgewood, Queens.
Rebecca Fuller
Brooklyn-based photographer Rebecca Fuller has been documenting New York's street art community for many years, and she is also the co-founder of The Street Spot. www.thestreetspot.com.
Erika (Saki) Sequeira
Erika Sequiera's photographs include portraits from her recent trips to Guatemala and Argentina, as well as her New York home base. www.iheartcoolstuff.com.
Daria Ska
dariaskripka.tumblr.com.
"I was born, I live and some day I will die,
enjoying the time in between – I fly"
Join us:
You Are Now Here!
Comments closed