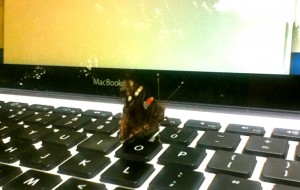 I confess I've been feeling a little uninspired lately; I suspect mostly because I've been preoccupied for a couple of months: I made plans to get my MFA in writing, but last week I decided not to go after all.
I'm inspired by people who are committed to doing what matters to them regardless of resources, like Matt & Jacob, who founded the free Mellow Pages library in Bushwick from donated books by local authors. Chiwan Choi in Los Angeles is also running Writ Large press, coordinating events and opening an independent bookstore in Los Angeles, all for the love of publishing. There are other examples. Many independent reading series and art galleries are labors of love.
Writing:
I'm currently working with Cameron Blaylock on a long essay (chapbook?) about Bushwick. Cameron is using a Polaroid camera to illustrate my thesis that Bushwick's cultural history is ephemeral at this point. I'm at about 6,800 words and just beginning edits.
Thought Catalog kindly published an essay I wrote recently. While the headline refers to catcalling, I was thinking of the Steubenville verdict and worldwide violence against women when I wrote the piece.
Reading/Events:
This Sunday, August 25 at 5 PM, I'm excited to be included in the reading/discussion for BLT Salon (Brooklyn Ladies Text). This month's event is hosted at a private residence in Brooklyn off the G: All are welcome. I'm reading the Thought Catalog piece and maybe a few newish poems. I'm reading with Amber Atiya, Lee Ann Brown, R Erica Doyle, Hafizah Geter, Casey Llewellyn, Amelie Ray and Evie Shockley. All the details are on Tumblr.
Art & curating:
I had an inspiring studio visit last month with Anne Gilman. I am interested in her works on paper and her use of text and crossing out. I've had a couple of projects on the back burner for a while, but they're still on the back burner. I'm still open to collaborations, so if you want to propose something, please do.
Teaching/Consulting/Donations:
I am no longer working with 3rd Ward, but I am open to finding new schools and venues to host my professional-writing workshops, and I am willing to teach small private groups (buy me a train ticket and I'm there, everyone outside NY). I love working with artists, writers & freelancers to help them communicate and reach toward their goals–editing, writing, marketing, starting a small business. Whatever you need, let's work on it.
I have found that many people postpone hiring a consultant to help put their ideas and professional communications together. Sometimes we tell ourselves that money is the reason we don't go for our dreams, but it shouldn't be. So allow me to remove at least one of your excuses: if you've wanted to work with me but haven't set up a time, do it now. Between August 21 and September 1, I will meet with anyone to consult on any project, on a donation basis. This is a pay-what-you-can offer for a one-hour appointment (in-person only!). If you want to barter, email me your idea. If the response is crazy, I'll set up scheduled hours and a desk somewhere, otherwise I envision spending some time in cafés having cool conversations and learning about your new projects.
The Photo:
People ask often about my 100 Days project. Here's what I did: Last summer, I wrote a new 1,000-word (or more) composition per day, every day for 100 days. In Union Square. I highly recommend it and need to figure out how to write something about it at some point. On Day 3 last year, a very friendly butterfly showed up who even sat on my hands while I typed, and then also made itself comfy on my keyboard, facing the screen. Two weeks later, this guy or one of his friends came back and found me again. If that isn't a sign, I don't know what is.
Thanks for your time and attention and inspiration and support. Keep in touch.